Formula
Details
Variations
Technology
AIRLOCK
Feather light, seamless energy transfer, buttery smooth flex, Airlock highbacks eliminates the need for traditional forward lean components to create the lightest weight, performance highbacks ever made.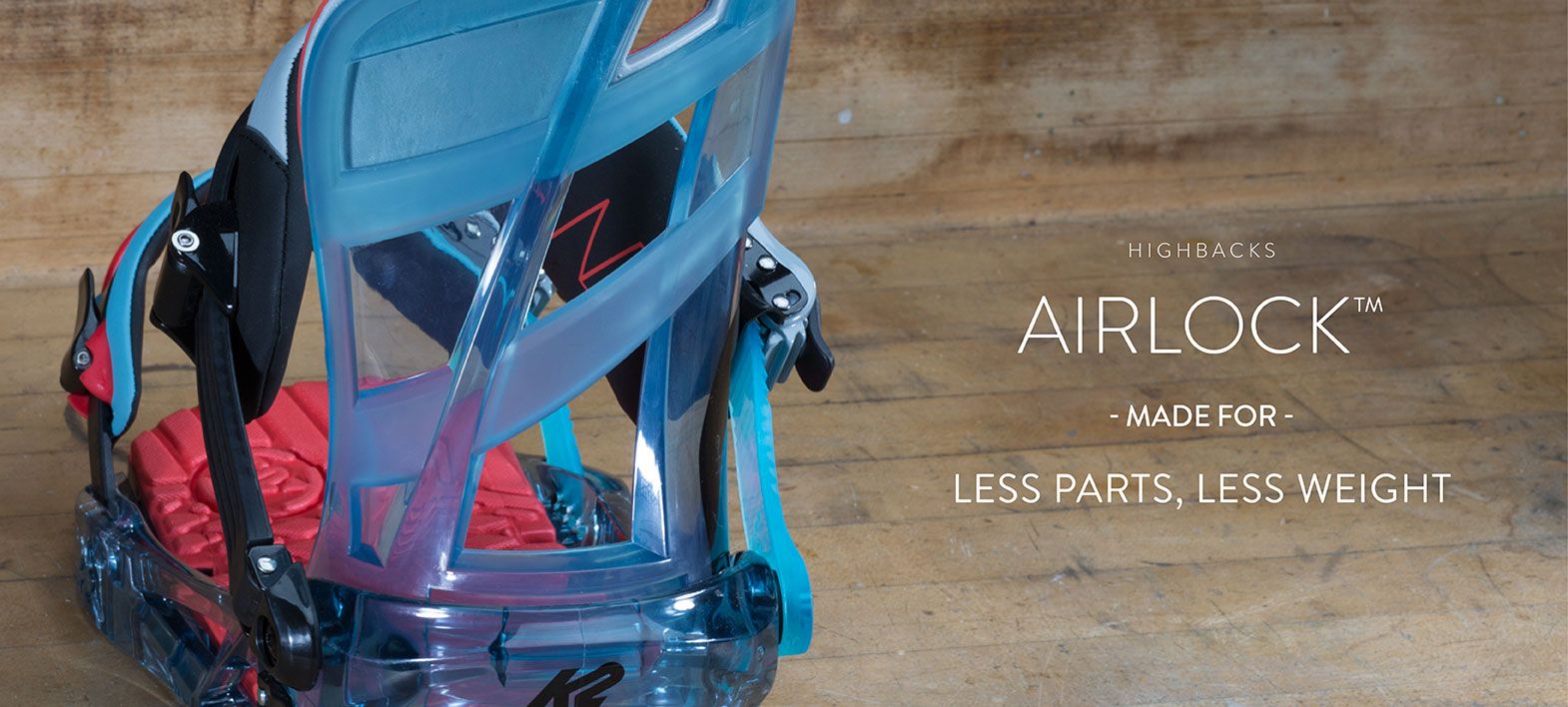 Reviews
Installs easily (11)
Comfortable (8)
Lightweight (8)
Adjustable (7)
Easy entry & release (7)
All mountain (8)
Downhill (5)
Powder (5)
Park (4)
Tricks (4)
Sizing:

Feels full size too small

Feels half size too small

Feels true to size

100%

(3 reviews)

Feels half size too big

Feels full size too big

Width:

Feels too narrow

Feels true to width

100%

(3 reviews)

Feels too wide
Reviewer Profile:
Advanced (5), Expert (4), Intermediate (3)
Adjustable
Comfortable
Good Interface
Installs Easily
Lightweight
Difficult Entry & Release
Poor Construction
Comments about Formula:
I'm goofy, +6,+12, rear binding braces inclined at position 2 of 3, I like them as they are light and configurable and the ankle straps have a hinge to open wider. I'm disappointed as after a few runs with these brand new bindings, the ankle buckle spring broke or jumped over. I see the other one is also short on an end and may end up the same. I couldn't finish a run without stopping and re-tighten several times. The binding is unwinding without the buckle spring to hold it in place. I'm trying to see a local dealer for repair, they are under warranty.
Adjustable
Comfortable
Easy Entry & Release
Good Interface
Great Construction
Installs Easily
Lightweight
Reliable
Comments about Formula:
I work for a Local Seattle snowboard shop and every year I have the opportunity to ride every binding out there and I always do. The Formula is hands down the best binding I have ever used, and continue to use, and is still the only binding I will spend my money on. The Formula is the perfect RELIABLE binding for someone looking to have a trustworthy leveraging system in the frozen alpine. With fully toolless adjustments, on high-back, toe-cap, and straps it is easy to adjust on hill, and the screws all lock into place ensuring that they do not come loose like other bindings which leave a philips head screw exposed to the elements.

After that the response on the Formula is not to be overlooked. Considering that this binding does not rely on a metal or aluminum heel cup to effectively transfer power from the high-back to the board it is amazing how quick and responsive this binding actually is. Without needing to rely on a metal heel cup, the Formula is able to maintain the damp and smooth ride, which makes this binding excellent at high speed arcs, and smash and grab landings.

Some of the subtle features that often go overlooked on this binding are the built in 3º Cant-Bed which makes my knees feel better after a day of hard riding. The Ladder straps are built into the screw mounting the high-back to the chasis, which means that you never have to worry about your high-back coming loose like has happened to me with other brands. If your High-back screw somehow comes loose on hill ( hasnt happened to me in 250+ days of riding) then you can use the ladder strap itself to tighten the screw back into the highback. What does this mean though?

Well, The Formula that I have used has been ridden over 250 days and is still in one piece with all the original parts, except for the ladder straps, which are expected to wear out, and are very easily replaceable. I have never had an on hill failure, which means that I will be a K2 binding supporter forever, because they last.
Installs Easily
Lightweight
Comments about Formula:
I have always used products from a rival manufacturer. and decided to try these bindings after reading a few reviews.
Out of the box these bindings just didn't look durable. and on the mountain!! First off, the toe bindings, just would not stay on the end of my boot, and was always slipping off the toe ( yes..the binding was the right size for the boot)...secondly...the ratchets on the ankle straps on both bindings just stopped working after 3 days.

You can imagine this when I was experiencing epic powder days in Niseko!!

Fortunately I had a spare pair of rival bindings and ditched these....they're rubbish.