Compass Step In
Details
Technology
BOA CONDA
The patented K2 CONDA System allows you to tighten, loosen or adjust your liner on-the-fly – from outside of the boot! The first time you try this, you'll wonder how you ever rode without it.
How it works: Whether attached to a Boa® reel or part of our K2 Conda™ system, the CONDA minimized harness is securely built into the shell of the boot and tightens around the liner to lock your foot in position. Focus is on the superior ankle support and heel hold. The harness lace is threaded through a floating tongue lace guide, allowing riders to customize fit for maximum comfort.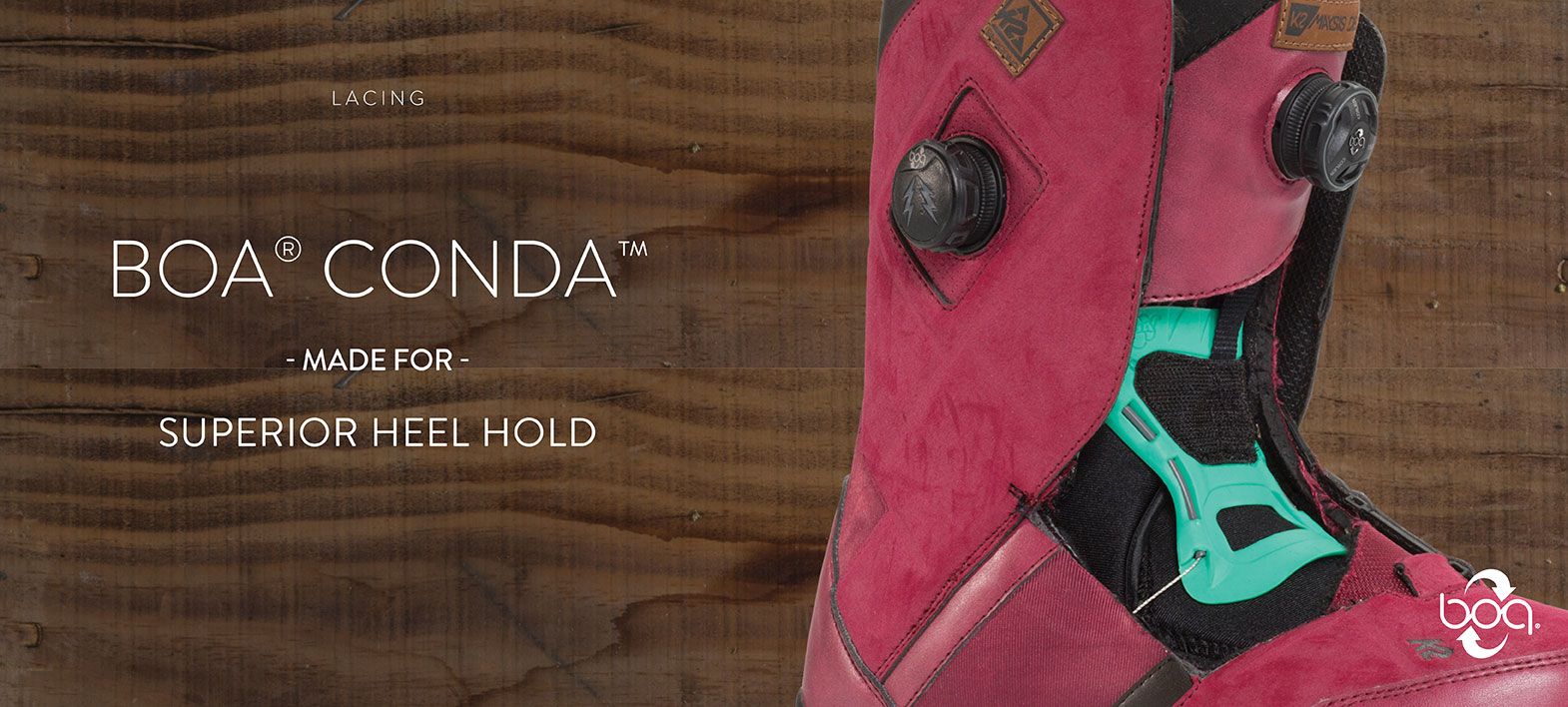 ENDO CONSTRUCTION
The Endo construction is based on a urethane endoskeletal structure that focuses boot structure and flex into a single engineered part. The result is a structure that flexes and returns without breaking down when compared to the stitch and glue construction of traditional boots. So you get consistent flex and a boot that returns to a neutral riding position quicker and with more energy, which helps you ride longer.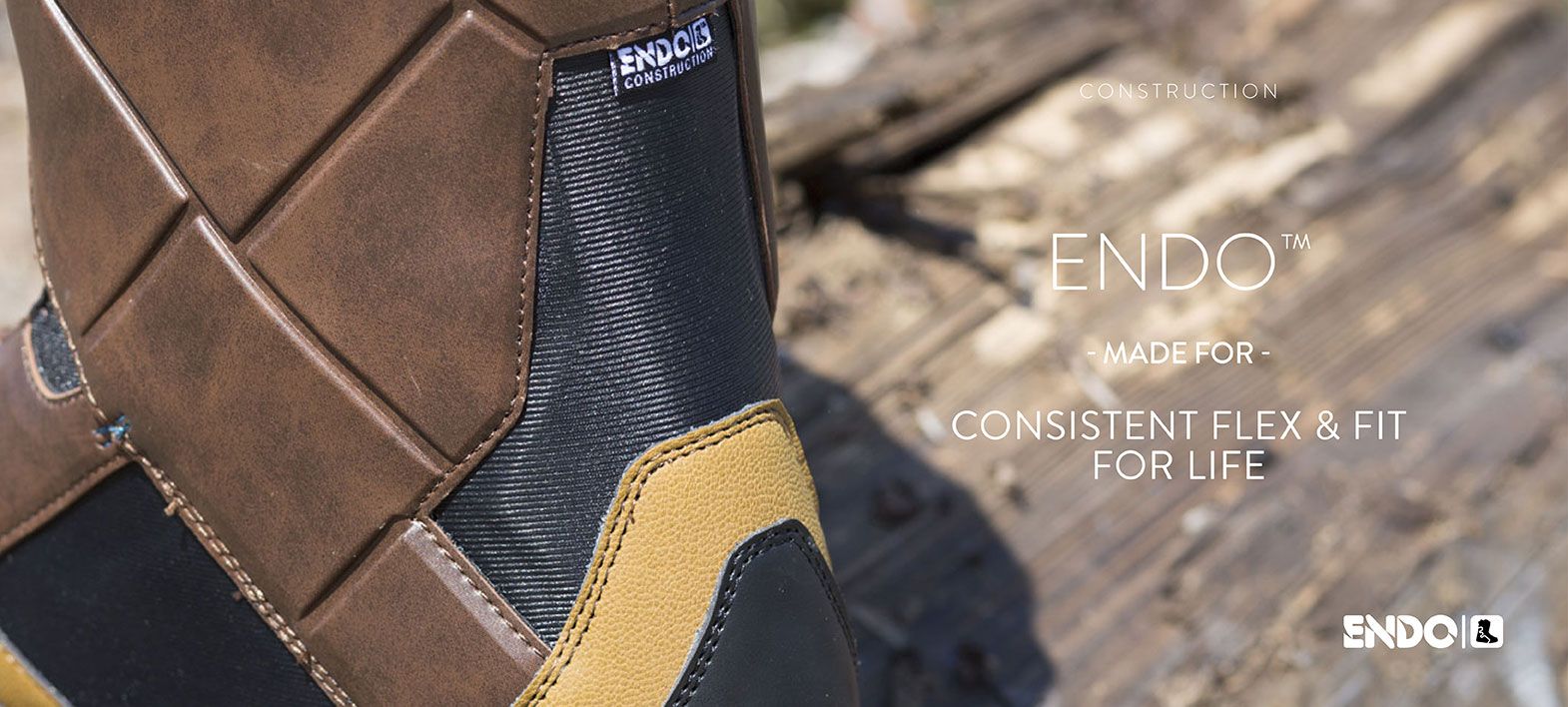 Reviews
Comments about Compass Step In:
So what I previously called Plastic bindings are actually composite clicker PLASMA bindings. They don't fit these boots w/o a slight modification(filing(off 1/8"?) the rear boot clip according to another online review). I purchased another older clicker binding like previously pictured and that one works fine too. EXCEPT in packing snow. This is probably half the reason clickers didn't catch on. My old green Transformer boots were better here because the rear boot clip in clasp was not as wide as the one on the bottom of the Compass boot that packs more snow and is harder to clear. See the attached picture. I hope K2 designers see this and fix this at least to be like the Transformer boot. On the plus side they did make the front clasp have the dugout go completely thru which helps that end. The front clasp wasn't nearly the problem the rear part is as far as not latching due to packed snow in it.
Lightweight
Solid Conection 2 Footbed
Warm
Dsn't Fit Plastic Binding
Comments about Compass Step In:
I bought these to replace my old warn out green transformer clicker boots, for regular all mountain riding. Two sets of old and older, metal clicker bindings fit this boot fine. A newer yet, set of plastic plate bindings would only click in if I banged the heel of the boot side to side while pushing down on the locking lever. The boots are stiffer as expected and latch down to the binding/board solidly. I don't like laces but desired the ankle flexibility so I got these instead of the Stark. It took a bit to get used to and it helped hold a solid edge on MN ice cold groomed runs on my first day. Hopefully these boots won't get loose and result in a sloppy connection over time like the old boots which died at Winter Park.
Built In In E3e 5e
Easy To Set Up
3cora Around The Feet
Doesn't Pack Well
Comments about Compass Step In:
- THIS BOA-SISTEM IS VERY GOOD FOR ELDERLY PEOPLE,
OR BACK-SURGERY, WICH CAN'T FRONT-BEND FOR TAIT
REGULAR BOOTS.
- I NEED THIS BOA SISTEM FOR WINTER & SNOW !
NOT FOR SNOW-BOARD, BUT DOMESTIC BOOTS.
- BOOTS HAVE TOO MUCH OPEN AROUND THE FEET : 1/4 OF CIRCUMFERINCE IS NOT COVER !
- NOTHING ABOUT WIDE ; 5E ?